首页 >产品中心 >Garmin佳明GPS产品 >
4寸屏户外GPS佳明Montana680
发布时间:2018-12-18 10:04:00 点击:
KEY FEATURES

TOPO

GPS+GLONASS

BIRDSEYE

COMPASS

CAMERA
坚固型GPS/GLONASS 信号接收带800M摄像头预装详图
4-inch dual-orientation, glove-friendly touchscreen display
8 megapixel autofocus camera; automatically geotags photos
Tracks both GPS and GLONASS satellites
Preloaded TOPO U.S. 100K maps; includes 1-year BirdsEye Satellite Imagery subscription
3-axis compass with barometric altimeter

防水适合徒步打猎等户外活动
Montana 680t features a dual-orientation, colour touchscreen that's glove friendly, comes preloaded with Australia and New Zealand TOPO maps and includes a 1-year BirdsEye Satellite Imagery subscription. The digital camera provides high-quality images, excellent resolution and automatically geotags photos with coordinates.
The handheld includes 3-axis tilt-compensated compass, barometric altimeter and access to both GPS and GLONASS satellites for improved positioning and typically faster fixes.
防炫大屏显示
Montana 680t has a vast 4-inch, sunlight-readable touchscreen display, giving you vivid colors and high-resolution images. Its easy-to-use touchscreen means you'll spend more time enjoying the outdoors and less time searching for information.
地理信息照片
Capture locations and memories with Montana 680t's 8 megapixel digital camera. Each photo is automatically geotagged with coordinates, allowing you to navigate back to that exact spot in the future. Keep track of your photos and see their locations on a map using BaseCamp™. Insert a microSD™ card for more photo storage or to view pictures from other devices.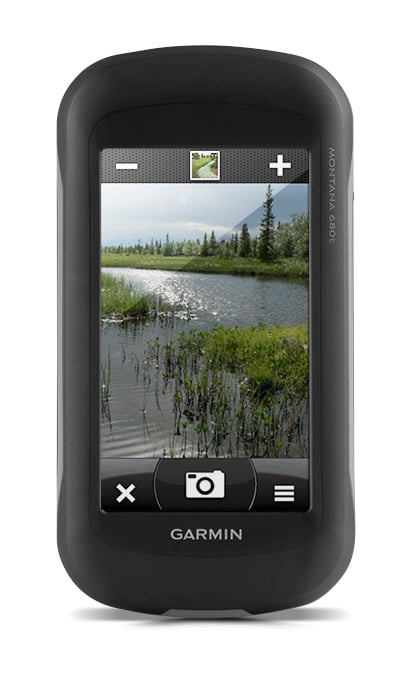 多种安装套件
With an array of compatible mounts, Montana 680t is designed for use on ATVs, in boats, as a handheld or in your car or RV. Use the auto mount with City Navigator® NT maps for spoken, turn-by-turn driving directions or the rugged mount for your motorcycle or ATV.
多种地图
Adding more maps to Montana is easy. Plug in BlueChart® g2 preloaded cards for a day on the water or load City Navigator map data for turn-by-turn driving directions. Add satellite images to your maps with BirdsEye Satellite Imagery (1-year subscription included). Or, transform paper maps into files you can download to your Montana with Custom Maps.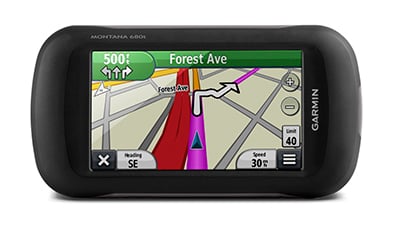 无线分享
With Montana 680t, you can share your waypoints, tracks, routes and geocaches wirelessly with other compatible Garmin GPS users. Just press "send" to transfer your information to similar devices and let the games begin.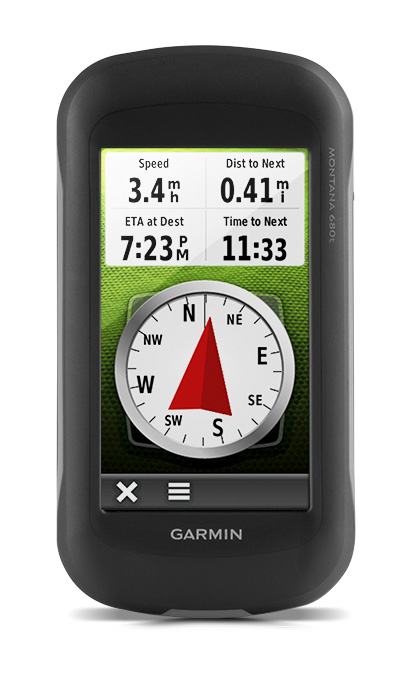 定位准确快速
With its high-sensitivity GPS and GLONASS reception, WAAS-enabled receiver and HotFix® satellite prediction, Montana 680t locates your position quickly and precisely and maintains it. Whether you're in deep woods or just near tall buildings and trees, you can count on Montana 680t.
双电源选择
With a one-of-a-kind dual battery system, the 680t gives you the option of using the rechargeable lithium-ion pack or traditional AA batteries.
户外野趣
The 680t supports paperless geocaching GPX files for straight-to-device uploading of geocaches from Geocaching.com. No more manually entering coordinates and paper print outs, Montana 680t stores and displays key information, including location, terrain, difficulty, hints and descriptions. The track manager feature helps organize and navigate through waypoints, routes and track logs (easily start/stop recording tracklogs).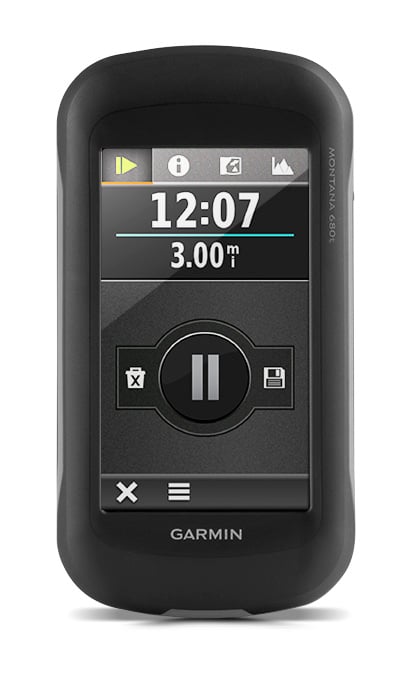 户外路径规划
Our free BaseCamp software lets you view and organize maps, waypoints, routes and tracks. This free trip-planning software even allows you to create Garmin Adventures that you can share with friends, family or fellow explorers. BaseCamp displays topographic map data in 2-D or 3-D on your computer screen, including contour lines and elevation profiles.